This is our "BIG WIN"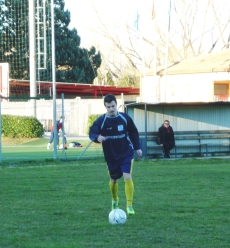 Below we like to publish a letter from the mother of one of our players that after the training experience spent with us, he is now ready to face a new challenge by enrolling in American Colleges.
It's a source of great pride for all the staff of our Academy. We are confident of the effectiveness of our programs but among our major objectives are those that families have confidence in us and the boys feel good during their training program away from their parents.
"On behalf of my family, I would like to extend our deepest gratitude to the Director, Bruno Redolfi, and the Program Coordinator, Francesca Buco, for the last four years while Brenden attended the Italian Soccer School A.I.C. in Perugia, Italy. Brenden has learned so much about the game of football and had so many opportunities to play Italian soccer as a team member of Italian Youth teams and a Men's team. He has also grown into a wonderful young man from his experience in Italy. Brenden is fluent in Italian and has learned how to cook fantastic pasta dishes. It is a sad day that he is leaving Italy but with no regrets as he now pursue his academic career while playing soccer at an American University. We will miss Bruno and Francesca but we will not forget and hope to be back in Italy another day. Our home is always open and I hope one day you will visit. For now, we will always hold a high place for the Italian Soccer School and will most definitely recommend this school to anyone looking to advance their soccer skills and embracing the culture of a wonderful country. This is school provides more than just learning soccer skills, it provides our son with life lessons about how to be a better person. Arrivederci"
It would be easy to answer with many beautiful and right things, but the right words to Lisa, Tony and Brenden are just ... THANKS A LOT AND ALL THE BEST !