SOCCER CAMPS - Abroad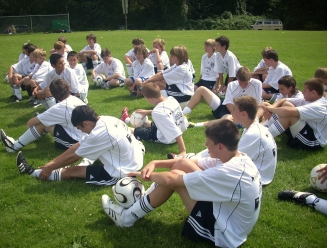 OUR GUIDELINE
Our Academy and coaches have had twenty years experience organizing international camps abroad in collaboration with numerous soccer organizations around the world. Our technical programmes for camps abroad are structured in exactly the same way as conducted by our Soccer School in Italy.
Due to the number of camps organized abroad, our Academy is completely committed and prepared to work with the organizing soccer club and customize their camp according to their own specific technical and logistical needs.
TYPES OF OUR CAMPS
Generally, the following camp structures are recommended by our staff:
PLAYERS' CAMP. It's suitable for boys and girls of all ages but divided into groups. The activities are designed specifically for the improvement of the individual tactical-technical capabilities of each player along with simple and complex situational play and final games.
TEAM CAMP. It's designed specifically for individual club teams. Our technical staff works on the technical aspects of the game, with particular emphasis on the tactical aspects of the offensive and defensive phases. We focus first on the tactical sectors of the defense, midfield and attack separately, and then we analyze the tactical phases collectively for the entire team. We propose various systems of play and advise which are the most suited for those particular players on the team.
Please Note. Regardless of the type of camp chosen, our underlying motto is always: "learning through enjoyment". This is the underlying principal in all of our teaching activities in order to obtain solid results with young ones. At the end of each Soccer Camp each participant will receive an Attendance Certificate for having played an Italian Soccer Camp.
WE SEND OUR PROFESSIONAL COACHES
For this purpose our Academy sends to each foreign club or organization or to whichever location chosen for the soccer camp, our experienced and qualified coaches who follow our programmes which have been developed and put to the test in our own soccer school in Italy. Each club can request one or more coaches depending on their needs.
SCOUTING AND STRONG PARTNERSHIP
The camps abroad, as well as those in Italy, besides soccer instruction, offer the possibility to form a strong partnership with clubs from all over the world and to provide the venue to discover, evaluate and scout new talent for an opportunity to play in Italian soccer organizations.