Our Magazine for You !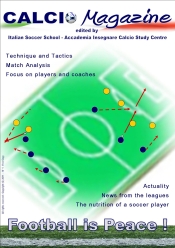 An important initiative directed and edited by the Study Centre of the Italian Soccer School A.I.C. about our "CALCIO Magazine". The magazine will come out periodically on our website and will revolve on various topics around the world of football:
Actuality;

News

from

the major leagues

in the world;

Focus on Players and Coaches;

News about our training programs and activities;

Technique & Tactics;

Match analysis;

News and Articles of experts on nutrition and traumatology in football.
In addition, we will soon open a section within the magazine, which will post articles of all those who will want to share with us and all the readers, their experiences, their knowledge and their opinions. Our intention is to discuss, compare and try to help expand the knowledge of all those who are interested and involved in this fantastic sport of football.