University
THE TRAINING OFFER
The Italian Soccer School / Accademia Insegnare Calcio's main purpose is the development of an ambitious project.
Along with developing soccer skills to the highest possible level, Italian Soccer School allows the students, during their stay in Italy, to continue their scholastic endeavours, to foster a strong cultural awareness and to develop the knowledge of a new language, Italian.
Our programmes are divided into:
HIGH SCHOOL – Boarding School Programme: for all students under the age of 18.
UNIVERSITY – Boarding School Programme: for all students over the age of 18.

The programme and the soccer training is the same for all students, however individual strengths and weaknesses will be addressed and specific needs will be customized for each student. All this will be done to establish a customized programme which will ensure a notable level of technical improvement which will help all students reach their maximum potential.
PROGRAMME'S STRUCTURE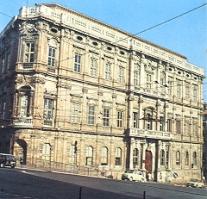 In this section we will illustrate the characteristics of the programme: players over-18 will attend the University for Foreigners of Perugia.
The Athenaeum is located in Perugia, one of the most interesting cities in Italy in terms of its artistic, historical and monumental patrimony. Located in central Italy, between Rome and Florence, Perugia is the protagonist of a lively and modern cultural presence characterized by a rich annual agenda of events and exhibitions, that allow for a pleasant stay every month of the year.
The University for Foreigners Perugia is the oldest and most prestigious Italian institution involved in teaching and research activities as well as in the diffusion of the Italian language and civilization in all expressions.
Univerity's Central Building: Palazzo Gallenga
Every Year approximately 2,500 Italian students and 5,000 foreign students of more than 100 different nationalities meet up, get to know each other and study together at the University for Foreigners Perugia, in a unique training dimension in Italy.
Some famous students who have attended the University for Foreigners of Perugia in the past are: Tanita Tikaram (Singer); Dong May (actress); Michelle Jean (Governor of Canada); Cristian Ghedina (Italian Champion Skier).
ITALIAN LANGUAGE AND CULTURE COURSES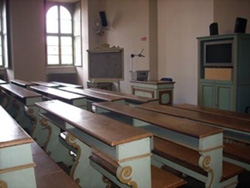 Monday to Friday all students attend 2 to 5 hours of Italian Language morning classes. There are 6 levels of of understanding and knowledge of the language.
The courses are of various kinds but always revolve around the didactic-promotional aspects of the Italian language and culture which are embedded in the purest tradition of the University for Foreigners of Perugia.
It has been reinterpreted in the light of training opportunities arising from a market where, both in Italy and abroad, the demand for the teaching of Italian as a second language and for "made in Italy" products is constantly increasing.
The courses are divided into 3 stages each of which have two levels:
Beginners courses
Intermediate courses
Advanced courses
All the course subjects encompass: Italian language; Speaking practice; Writing practice; Practice in pronunciation and orthography, with different hours of lessons per week.
The objectives of each course are naturally different.
They start with A1 level, to provide students with the abilities and skills required for simple and essential oral interaction in the most common and familiar situations in order to satisfy concrete demands. Special attention is given to aspects of pronunciation (phonological control) and writing (orthographic control) of the Italian language.
Following a gradual work with intermediate levels, step by step, the student can arrive at an advanced level, the C2. The objective of this course is to make students capable of controlling all varieties and registers of the written and spoken language.
They should be students who "know how to use the language with the precision, pertinence and linguistic fluency of an exceptionally good learner".
The students, at the end of the course, must be able to express themselves through words and through writing with precision and naturalness and also in complicated topics of a social and culture nature.
THE SERVICES OF THE UNIVERSITY
Front Office
The reception, guidance and tutoring office deals with students upon arrival providing information on the courses and on the activities of the Athenaeum, the structures and the services available. Our Accademia Insegnare Calcio also assists the students in all routines to familiarize themselves with their new reality.
Linguistic and computer laboratories
The University has five linguistic laboratories which are used during the courses. Other audio-visual equipment can be found in the classrooms, and is used during the lessons. There are two more computer labswith 57 workstations connected to a network, with advanced application software and access to internet.
Medical Clinic
From Monday to Friday a medical office is open for students of the University for Foreigners.
Canteen
The students of the University for Foreigners have access to the Italian University canteen at low prices (about 3,00/3.50 Euros for each complete meal). The Canteen is open for lunch and dinner.
CULTURE, SPORT AND ENTERTAINMENT
Chamber Music Chorus of the University for Foreigners
Students who want to specialize in singing can take part in the choirwhich gives concerts from time to time in the University and also in other places.
Youth Musical Association of Perugia (Agimus)
This Association is about 40 years old and for more than 20 has given various kinds of concerts in the University for Foreigners from jazz to classical and folk to ethnic music. These concerts are usually played by young Italian Professionals, but students with musical aptitude are often invited to play.
Many concerts are played by chamber music groups and orchestras from cities twinned with Perugia, like Potsdam, Bratislava and Tübingen. Agimus also organizes cycles of lessons and seminaries dedicated to the history of Italian music.
University Social Centre
Concerts, shows, plays, exhibitions and the most famous Italian films are shown. Students can attend free of charge and can also exhibit their artistic talents (see form B in the insert of this brochure).
Excursions
The University organizes weekend trips to the most important cities and guided visits to historical and artistic monuments of Perugia and Umbria.
Sports
Students of the University for Foreigners can use the University Sport Centre of Perugia situated on via Tuderte, 10 – Perugia, either free or at reduced prices. There is the possibility to participate in various sports.
PLEASE NOTE: All the students of Accademia Insegnare Calcio that wish to use the facilities of the University can use them only during the free hours from study courses and the soccer program and always in accordance with the Director of Accademia Insegnare Calcio.
ACCOMODATION
Our Academy provides all students who attend the University programmes, with private apartments.
Usually, the apartments are 5 minutes walking distance from the city centre and the Main Building of the University, and also 15 minutes, with public bus, from the training facilities of our Accademia Insegnare Calcio. Depending on their space they can accommodate two or three students and are equipped with every comfort: kitchen, bathroom with shower, washing machine, cabinets, desks, beds. The apartments are cleaned by our staff every week but at the same time each student who lives within them, must maintain cleanliness and order, to ensure that the cleaning by our staff is carried out with ease and hygiene.
Public bus stops are situated near the apartments of our students, which provide access to all key areas of Perugia. Our Academy offers all students an annual subscription for the use of all public buses in the city of Perugia.
COMPLEMENTARY ACTIVITIES OFFERED
All students can organize on their own, with the permission of our Academy and their parents, excursions to the nearby and characteristic towns of Umbria (with trains or public buses).
Playing with our club partners, in the Italian soccer league competitions for students who are in possession of necessary documents for the Italian Soccer Federation.
In mid-January we offer the students 30 sessions in our partner-gym for a soccer-specific training programme.
Our Academy organizes cultural excursions to the most famous Italian cities.
Our Academy organizes trips to attend Italian league soccer matches of: Series A - B – C and/or European Champions League and/or Uefa Cup.
Possible participation at important sporting events.
Participation in characteristic festivals and special events in the city of Perugia or the Umbria region.
Improvement of Italian language with private lessons. Study.
Free time: shopping; relax…
TYPICAL DAYS OF OUR UNIVERSITY STUDENT
First of all it is worth pointing out that the daily life of the high school student and that of the university student participating in our academic programme is in some ways quite different.
Except for university lessons, soccer training and other activities which our academy provides, our university student can organize his/her time autonomously, best suited to his/her needs.
The following schedule is a sample of a typical student day:
| | |
| --- | --- |
| Schedule times (range): Monday*–Saturday | Daily Normal Activities |
| 7.30 – 8.00 am | Breakfast |
| 8.15 am | Ready to go to the University (walking or bus) |
| 8.30 – 12.30 pm (the end time may vary) | Lessons |
| 12.30 – 1.20 pm | Lunch at University Canteen or at home |
| 1.30 pm | Take the public bus to go to the sports centre |
| 2.15 – 4.45 pm (this current sportive season) | Practice – On Saturday this time is free, only players who are part of our soccer club partners can play. |
| 5.21 pm | Take the bus to go back home |
| 5.40 – 7.30 pm | Each student organizes own time: study; relax… |
| 7.45 – 9.00 pm | Dinner at home (alone or together, the students prepare their food) |
| 8.15 – 11.00 pm | Each student organizes own time: study; relax, social life, TV… |
| 11.00 – 11.30 pm | Bed. Sleep (We suggest and sometimes control) |
*One day, between Monday-Friday, the soccer training may be replaced with a day of study, especially in periods close to exams.
| | |
| --- | --- |
| Schedule times: Sunday | Activities |
| 9.00 – 10.00 am | Breakfast (at home or in a typical bar of historical centre) |
| 10.00 – 12.30 am | Free time |
| 12.30 – 1.30 pm | Lunch |
| 1.30 – 7.30 pm | Free time (walking through the old town of Perugia) |
| 7.45 – 9.00 pm | Dinner |
| 8.15 – 11.00 pm | Each student organizes his time: study; relax, social life, TV… |
| 11.00 pm | Bed. Sleep (We suggest) |