SOCCER CAMPS - Italy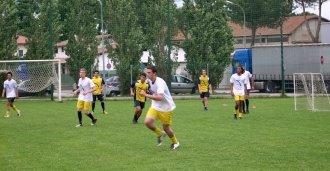 AN EXPERIENCED AND PROFESSIONALE STAFF
Italian Soccer School A.I.C. – Accademia Inseganre Calcio is the ultimate in Study and Soccer Travel Programs in Italy. Our Academy's Program has been operating for 10 years and prides itself on its years of experience and success with players from all over the world. Our Italian Soccer Academy is conducted by a professional staff of licensed coaches UEFA and FIGC (Italian Soccer Federation) and provides a specific, thorough professional soccer training program based on the capacities of each player. Most of our coaches are bilingual even if we prefer, whenever possible, to conduct the training session in Italian in order to immerse the players in the Italian language.
TYPES OF OUR CAMPS
Our Soccer School Camp Program is open to all players, boys and girls, from 12 to 20 years old. We offer three kinds of Training Program Camps to our players/campers:
BASIC CAMP: basic elements of soccer; ball work; building and/or improvement of all technical skills; definition and suggestion of player's position on the field and on the team; individual tactics and situations of play: 1v1 - 2v1 - 3v1.
ADVANCED CAMP: improvement of all technical skills; control of position; the tasks of the player's position on the offensive and defensive phase: individual-sector-team; situations of play 1v1 - 2v1 - 4v2 - 6v4; collective defensive and offensive phase on the base of the system of play utilized.
ELITE CAMP: all aspects of the Advanced Camp reinforced: offensive schemes; defensive systems; situations of play 6v4 and 8v6; complete analysis and execution of the modern system of play.
Please Note. At time of registration, the player/camper can decide and choose his/her camp, otherwise, upon arrival at the Italian Soccer School A.I.C. our technical staff will choose the appropriate session suitable for the player based on the first training session. In all the CAMPS the players attend a 2 to 3 hour training session daily (morning or afternoon) from Monday to Friday. Our camps are intense, yet fun. When it is possible, friendly matches between our Academy Camp's Team and the local teams are arranged. The duration of our camp is from one week to three weeks generally during the months of June-July. Specific individual requests may also be accommodated throughout the year.
CAMP'S ACTIVITIES
All the soccer training sessions are combined with many other amazing activities such as:
Italian Language Course guarantees a high standard of teaching thanks to our qualified teachers with specific experience in teaching youth and Italian as a second language. Campers attend 2 hour Italian language classes from Monday to Friday at our Hotel Conference Room. The language program focuses on conversational skill-building and situational learning for a deeper understanding of the Italian language, reinforced of course, by the daily activities of our Italian Camp. All language materials needed for the classes are provided by our Academy.
Italian Life guarantees the players a daily immersion in the Italian culture: weekend excursions to the main historical cities of Italy; immersion through the Italian language both spoken and heard; immersion through music, television, foods, events, and above all through soccer, which are our instruments in delivering our goal of creating an authentic and enriching experience. Our players/campers become part of a very special family, a family that comes from around the world.
Alternative Sport Activities include swimming and pool games such as water polo and other types of sports based on the availability of the location.
SERVICES INCLUDED
During the Camp our Academy provides a great quality of services:
Hotel Accommodation *** full services with pool, air conditioning, Wi-Fi internet connection;
Double, triple and quadruple rooms. Separate rooms for Girls and Boys;
Three meals a day (international breakfast and typical Italian cuisine);
Private bus for all the transportation provided in the soccer camp program, including transportation to and from the Airport;
A set of our official Academy's sportswear;
Attendance Certificate and Short Evaluation report of the player/camper.
OUR MISSION FOR YOU
We offer all of this in order to maximize the young player's enjoyment to its fullest; to create Italian and international friendships and to live out and experience the Italian life and culture to its fullest, for an unforgettable stay at Italian Soccer School A.I.C. - Accademia Insegnare Calcio. The camp offer the important possibility to provide the venue to discover, evaluate and scout new talent for an opportunity to play in Italian soccer organizations.
THE TIME HAS COME
Now is the right time to take part in Italian Soccer School A.I.C. - Accademia Insegnare Calcio. A time to be independent, yet supervised. A time away from your family, yet always in close contact. A time for individual growth. A time you will cherish forever!
Contact us via email or complete the information sheet, to receive any further information you need regarding conditions and fees. We look forward to hearing from you !