Academy's student Jacques, attends the Serie A match ROMA-GENOA 4-0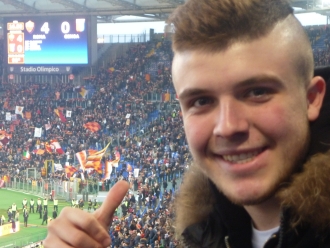 A chance to learn while having fun and watching an exciting soccer event in the Olympic Stadium of Rome.
The new year and the second part of the Boarding School Program begins to Jacques, one of our players and students, in the best way. Jacques has spent a fantastic day in Rome, attending at championship round of the Italian Serie A, Roma v Genoa ended with the victory of Rome 4-0, with goals of Florenzi, Totti, Maicon and Benatia. The result of the match was never in doubt, the team of Romea has proven to be very strong and well above Genoa team. Roma team will fight for sure to win the Italian Serie A Championship 2013-14. Jaques was excited and happy to have lived this experience in a fantastic stadium like the Olimpico of Rome, full of choirs and cheering from the fans of Roma.
This just described, is one of the typical activities that we offer to our students, participating in exciting sporting events, especially soccer of course. Live these experiences, as well as being fun and unique, gives the chance for our students to get in touch with the high level of Italian soccer, to watch great champions in action and admire their talent and their skills. The activity is an important opportunity to extend and improve the learning process of soccer, both technical and tactical. Each of our young soccer player can enrich his knowledge, to study the tactical movements and technical gestures of top players who play in the same position on the field.