SCHEDULED A NEW SOCCER CAMP IN FLORIDA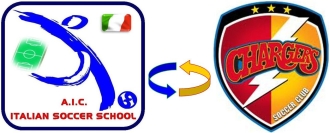 From June 9 to 23 on the football field of the CHARGERS SC, the technical staff of the Italian Soccer School AIC renewed the successful collaboration with the prestigious Soccer Club, organaizing an amazing camp for boys and girls.
After many years of fruitful collaboration and after the great success of last year...
Renews June 9 to 20 our Soccer Camp in Clearwater-Tampa FL in collaboration with CHARGERS SC. ITALIAN SOCCER SCHOOL A.I.C. is very proud and happy to continue and make it active through many "Trainining activities" the collaboration with CHARGERS SC, one of the biggest soccer clubs in the United States, which is also "home" of the very important US development program and exposure of young players called "Academy Program".
Our next Soccer Camp represents yet another opportunity for all young people, boys and girls interested, to experiment and have fun with the best method of construction and development of a young soccer player. Our long experience in the growth of young players, our training programs and the results obtained are the guarantee of our soccer camp that we develop for years in partnership with various soccer clubs around the world.
All participants will be divided by age and the activities and objectives of the camp will be:
all aspects of individual technique;

coordination and agility;

games with psychokinetic activation;

play situations with shot on goal (1vs1 - 2vs1 - 3vs2 - 4vs2 - 6vs4);

matches and mini tournaments (world cup) 3vs3 - 5vs5 - 7vs7 - 9vs9 - 11vs11.



but especially the central theme and the "title" of our camp will be, "I LEARN HAVING FUN" !
Very soon we'll communicate the location of the camp, directed by Coach and Coordinator Marco Pollastri, to which we give our thanks. We hope that many young players can participate, and may come to have fun, make new friends and get to know our methodologies of training and the world of the activities of the Italian Soccer School AIC - Accademia Insegnare Calcio. We are sure that all participants enjoy a memorable and fun weeks of soccer.
Hurry up and contact us for further information ! info@italiansoccerschool.com or call (727).688.3134